Our Mission statement reminds us: We are a Christian community, committed to love, service, and growth.
We are a Christian Community….
Our members come from various backgrounds; many were raised in the Christian faith, while some were not. We respect each other in the midst of our diversity and we seek to listen to God's Word and God's calling.
We are Committed to Love: We believe that every person (yes, every!) was created by God and is loved by God. Jesus teaches us to love our neighbors as we love ourselves and to welcome strangers into our midst.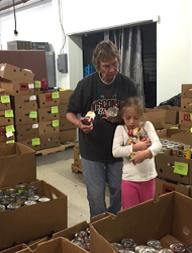 We are Committed to Service: We live out our faith by being actively engaged in mission. Sometimes our service is in the form of financial gifts; other times we serve by being volunteers. Our church is dedicated to mission projects that are both local and further away.
We are Committed to Growth: Our church provides opportunity for growth in areas of spirituality, knowledge, and relationships. We value educational and social opportunities that expand the horizons of our faith.