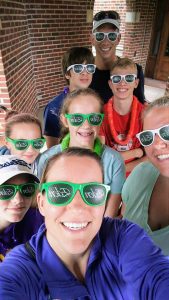 Generation G (aka Gen G) is our high school youth group. All youth in high school are welcome to join us! During the school year we meet Wednesday nights from 7-8 pm in the youth room (off the church fellowship hall). Throughout the year, we also h
ave events such as retreats and lock-ins, fun nights for bumper cars or laser tag, serving Easter morning breakfast, and planning at least one Sunday morning church worship service. Many of our youth also become involved in other aspects of church life, doing mission work, helping with Sunday School or Vacation Bible School, or serving on church committees.
Generation G: It's time for some fun!!
Looking forward to seeing all our bonus kids– you are missed! If you have questions you can email [email protected], facebook, call or text!